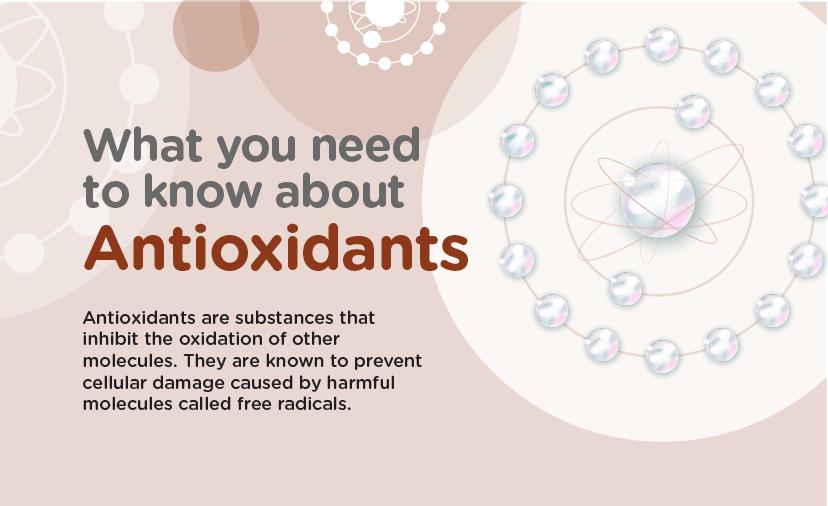 Antioxidants keep free radicals in check by either

providing the extra electron needed to make the free radical complete
or by
breaking down the free radical molecule to render it harmless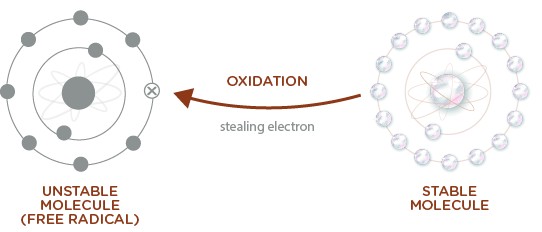 Free radicals are atoms or groups of atoms that contain an unpaired electron and are therefore unstable and highly reactive.
In a process called oxidation, free radicals steal electrons from other compounds — fats, protein, cell membranes, and even DNA; altering the structure of the affected molecule.
Free radicals in small and controlled quantities may not be a major concern. However, an
excessive amount
in your body can lead to
premature ageing
.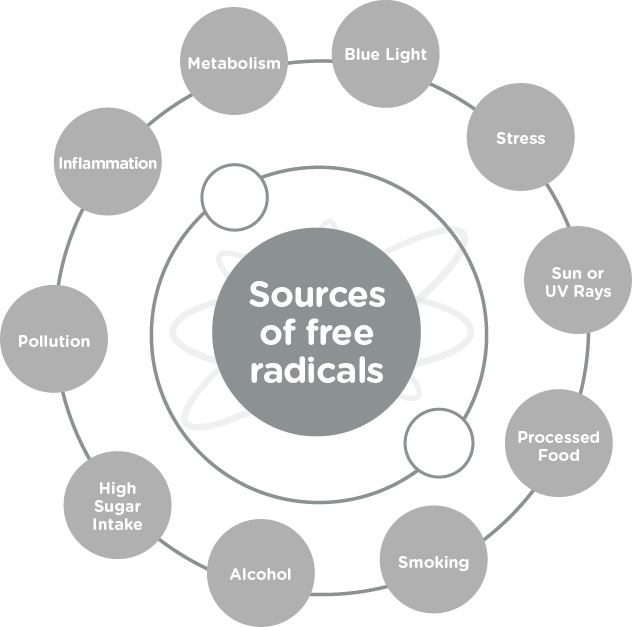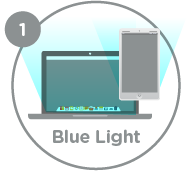 Harmful blue light (from mobile devices, laptop, TV) induces free radical production, penetrating both eyes and skin.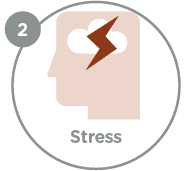 Stress causes hormonal changes, which in turn produces free radicals.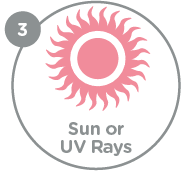 Sun exposure generates free radicals that age the skin, causing roughness and wrinkles.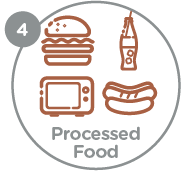 Processed food contains oxidised fats, increasing free radicals in our body.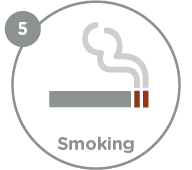 Tobacco smoke contains many toxic chemicals and free radicals — one puff of cigarette causes up to 1 quadrillion free radicals.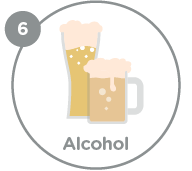 Alcohol consumption produces free radicals that impair the body's normal defences.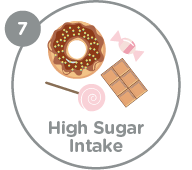 Excessive glucose stimulates the production of free radicals in our body.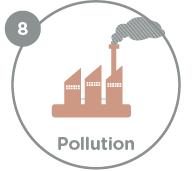 Haze carries a bulk of free radicals like carbon monoxide, sulphur dioxide, and nitrogen dioxide.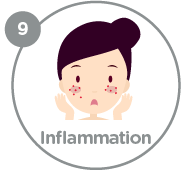 Skin inflammation (i.e. acne) produces free radicals. Our skin naturally produces hydrogen peroxide to attack the inflammation.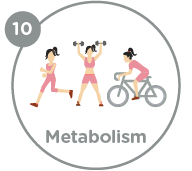 Cells naturally produce free radicals as a by-product of metabolism.


Free radicals are also associated with chronic and degenerative illnesses such as
autoimmune disorder
,
cataract
,
rheumatoid arthritis
,
cardiovascular
and
neurodegenerative diseases
,
Alzheimer's disease
,
Parkinson's disease
and many others. Luckily for us, the human body has a
defence system of antioxidants
to fight against free radical damage.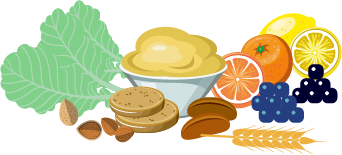 Plant-based foods such as
fruits
,
vegetables
,
nuts
, and
whole grains
are rich sources of naturally occurring antioxidants. Other well-known antioxidants include
Beta-carotene
,
Lutein
,
Vitamin C
,
Vitamin E
,
Lycopene
and
Selenium
.
Best Antioxidant-rich Foods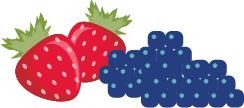 Berries
Blueberries and strawberries are excellent sources of an antioxidant called anthocyanin
2 - 2½ cups per day*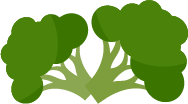 Broccoli
Contains more Vitamin C than an orange and more calcium than a glass of milk
1 - 1½ cups per day*

Cherries
High in two inflammation-fighting phytochemicals - anthocyanin and quercetin
1 cup per day*

Corn
Contains zeaxanthin, an antioxidant that helps to protect your eyes
2½ cups per day*

Garlic
Helps manage healthy pressure and cholesterol, and remove heavy metals from the body
2 - 4 cloves per day*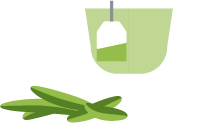 Green Tea
Loaded with antioxidants and nutrients that may lower the risk of cancer
2 - 3 cups per day*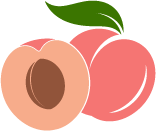 Peaches
Rich in lutein, which keeps your heart, skin and eyes healthy
1 large peach per day*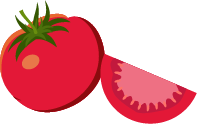 Tomatoes
Contains lycopene, which is more potent in cooked tomatoes
½ cup per day*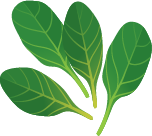 Spinach
Rich in lutein, an antioxidant that helps to protect your eyes
1 cup per day*
Due to the busy lives we lead, it is not an easy task to prepare and consume these foods daily. A convenient way to ensure that we are getting sufficient antioxidants from our diet or taking high-quality antioxidants is to consume
antioxidant supplements
.
Pine Bark Extract
is a
super antioxidant
that is loaded with oligomeric proanthocyanidin compounds (OPCs). OPCs are powerful substances that cannot be manufactured synthetically. The molecules are found mainly in the woody part of plants.

Pine bark extract offers many amazing benefits and there are currently many available in the market. However, not all are made the same, and there's only one
original
.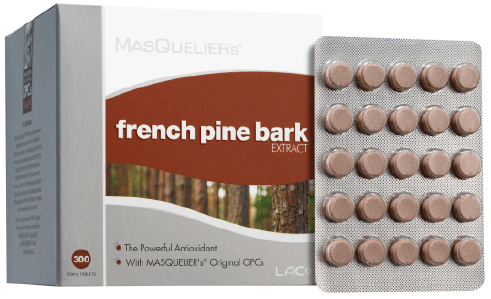 LAC MASQUELIER's® French Pine Bark Extract
with Original OPCs is the
world's first, widely researched
and
scientifically proven
OPC that combines a unique and rich complex of oligomeric proanthocyanidin compounds and essential phytonutrients.
Discovered decades ago by Professor Jack Masquelier, he identified and extracted the source of effective capillary strengthening in the husk of French pine trees. The precise extract known as Flavan® is still considered so potent that it continues to be produced under strict control by the French Ministry of Health for its remarkable health benefits.
History of LAC MASQUELIER's® French Pine Bark Extract
Extracted from the husk of

French pine trees

pinus maritima.
Founded by scientist and

Professor Jack Masquelier

. The Seal of Authenticity is a

guarantee

that the MASQUELIER's® ingredients have been

verified by CPA (Complex Phytonutrient Authentication)

.

Awarded the first patent

for method to produce unique extract from bark of French maritime pine tree.

Eight more patents

were awarded in relation to both ingredients in this product.

More than 65 years

of ongoing scientific research to ensure the

highest level of quality

and consistent health benefits.
LAC MASQUELIER's® OPC Originals undergo CPA – one of the

world's most accurate quality control methods

.
LAC MASQUELIER's® French Pine Bark Extract with Original OPCs offers a natural
3-Way Action Protection against the effects of stress.
Although ageing is an irreversible and inevitable process, you can take steps to live life to the fullest whatever your age. The art of living is to

maintain a healthy body and mind

so that you can make the most of every day.
Studies have shown LAC MASQUELIER's® French Pine Bark Extract with Original OPCs to be

20 times more powerful than vitamin C

and

50 times more powerful than vitamin E

as an antioxidant.
It improves resistance to infections and allow us to have better management of symptoms related to allergy, effectively

supporting our immune system

. This in turn slows down the natural ageing process, and lessen the risk factors for many common diseases.
Every organ, muscle and tissue in our body is fueled by nutrients from our blood, and good blood circulation is a precondition of good health. LAC MASQUELIER's® OPCs Originals

promotes healthy microcirculation

, which assists nutrient and oxygen delivery throughout the body, providing support for the heart and all vital organs.

As we age, so do our blood vessels, which can often get blocked and become stiff. Without healthy capillaries, blood fails to reach the parts of the body it needs to reach, and tissues and organs no longer receive essential nutrients.
LAC MASQUELIER's® French Pine Bark Extract with Original OPCs help

ensure that our nutrient delivery system stay open, strong and supple

so that oxygen and nutrients keep flowing to the organs that need them to stay healthy.
At the same time, LAC MASQUELIER's® French Pine Bark Extract with Original OPCs help

ensure harmful toxins

and

wastes continue to flow harmlessly out of our bloodstream and prevent excessive build-up

.
Collagen levels normally diminish over time through premature ageing and free radical damage. The powerful antioxidant protection of the LAC MASQUELIER's® OPCs with Original OPCs

protect the body from free radical damage

, maintaining the collagen levels.
By maintaining collagen levels, our blood vessel system is also well supported!

Each tablet provides
100mg LAC MASQUELIER's® Original OPCs + French Pine Bark Extract
.
As a dietary supplement,
take 1-2 tablets per day
with water or fruit juice, or at least 1 tablet for every 100lb (45 kg) of body weight.
LAC MASQUELIER's® French Pine Bark Extract is
available in 4 sizes
.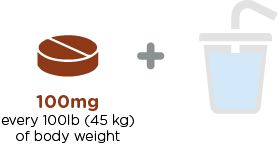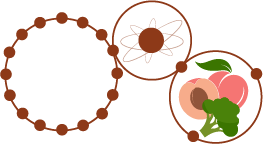 Your body naturally produces antioxidant enzymes, which work with the antioxidants that come with the food or supplements you eat.
---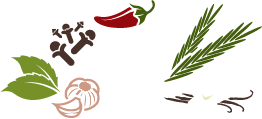 Among the food categories, plants are the richest source of antioxidants.
---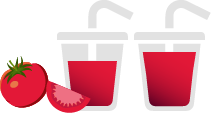 Thirsty? Drink 2 glasses of fresh tomato juice a day to fulfill your daily lycopene requirement.
---

Different cooking methods affect the antioxidant content in your food. Steaming and baking are better options for retaining antioxidants.
---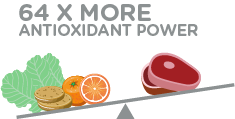 According to an extensive study of antioxidant content of 3,139 foods conducted by Doctor Michael Greger, plant-derived foods contain 64 times more antioxidant power than animal products.